Dr. Bensman Receives Distinguished Science Alumni Award
04-21-2017
Writer(s): Logan Judy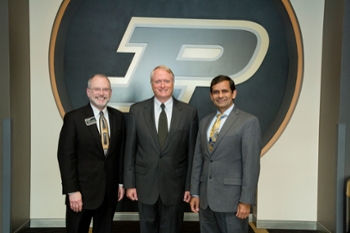 Dr. Ed Bensman received the Distinguished Science Alumni award this Spring in recognition of his prestigious professional accomplishments.
The Distinguished Science Alumni awards are given to alumni from each department in the College of Science whose work and achievements have made a significant difference in their communities. The awardees were honored on April 7 with a formal dinner hosted by the College. Before the dinner, Dr. Bensman visited EAPS, and gave a seminar, sharing his accomplishments, and the role that his education at the department has played in his success.
As a part of the seminar, Dr. Bensman mentioned the opportunities he had to work with his professors as an undergraduate, and how that set him up for success later in his career. After receiving his Bachelor of Science degree in Atmospheric Science, Dr. Bensman went on to have a twenty-year career in the United States Air Force, which included serving as the Deputy Director of the Computer Systems Division of the Air Force Combat Climatology Center. He received Master of Science and PhD degrees from Florida State University, and was appointed Director of Engineering and Science Computing at the University of Notre Dame.
For the past three years, Dr. Bensman has served as the Program Director of Physical and Dynamic Meteorology at the National Science Foundation.