Dr. Chaubey Named ASABE Fellow
06-02-2017
Writer(s): Logan Judy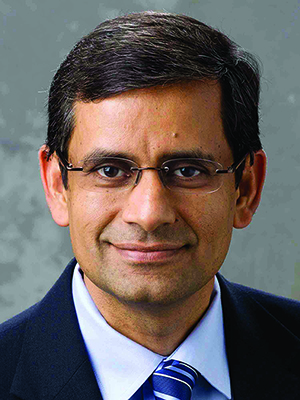 EAPS Professor and Head Dr. Indrajeet Chaubey has been named a Fellow with the American Society of Agricultural and Biological Engineers (ASABE), the organization's highest honor.
In order to be considered for the grade of ASABE Fellow, an individual must have 20 years' membership in the organization, as well as demonstrating unusual professional distinction within the field; criteria that only about two percent of the organization's membership has ever attained.  For Dr. Chaubey, this honor is part of a longstanding commitment to education and contribution to the sciences.
"As a professor and researcher, my goal has always been to contribute to the sciences in meaningful ways," he said.  "I am deeply honored to receive this recognition from my peers. Such a recognition also validates the quality and impact of research done at Purdue University".
Dr. Chaubey's commitment to the sciences and higher education was evidenced from the start.  During his first faculty position at the University of Arkansas, he co-led the development of the Eucha-Spavinaw Phosphorus Index that was used by the federal court to lift a moratorium on poultry litter applications.  He was also chair of the department's Graduate Committee, during which time the number of graduate students in the department quadrupled.
His accomplishments at EAPS have also been notable.  As Department Head, Dr. Chaubey initiated unconventional energy research, a research theme not previously pursued in the department.  Six new endowed scholarships have been created during his tenure, and the department's first endowed professorship has been created as well.  During this time, his research continued to gain prominence, resulting in projects funded by the U.S. Environmental Protection Agency (EPA), U.S. Department of Agriculture (USDA), National Science Foundation (NSF), and U.S. Department of Energy (DOE), totaling more than $15 million.
Dr. Chaubey will be recognized along with the other ASABE Fellows at a formal ceremony on Monday, July 17.