EAPS Graduate Student Awarded Fellowship from National Science Foundation
10-27-2016
Writer(s): Logan Judy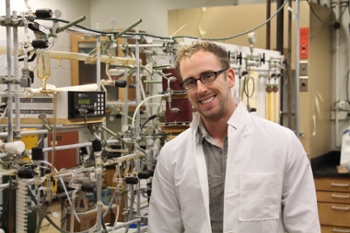 EAPS graduate student Wendell Walters has been awarded a fellowship from the National Science Foundation for his upcoming postdoctoral research. The highly prestigious Atmospheric and Geospace Sciences Post-doctoral Research Fellowship requires an independent research proposal and provides a stipend and research supplies.
The key to his level of success, he said, is working hard on something you are interested in.
"I think it is important to propose a project idea about a topic that you are passionate about.  I have been interested in environmental chemistry since high school and have worked on problems relevant to air pollution since my undergraduate studies."
Walters will be conducting his research at Brown University, studying the contributions of ammonia source emissions to the atmosphere, particularly in urban areas, which has important environmental implications.
"The importance of fossil-fuel combustion as a source of ammonia emissions in urban areas is currently up for debate.  Once we understand that more fully, we can establish a tool for tracing ammonia emission sources for studies ranging from urban pollution to nitrogen fertilization in ecosystems."
After he receives his Ph.D, Walters will complete this work at Brown University with Dr. Meredith Hastings.