Dr. Shepardson releases book on Turkey Run State Park
09-23-2016
Writer(s): Logan Judy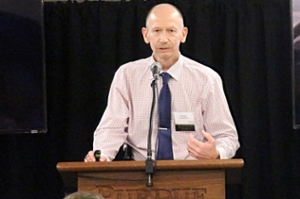 Some EAPS professors look to different ways to engage the public outside of the classroom, and for Dr. Shepardson it was to write a book on Turkey Run State Park (Marshall, Indiana).
"It's a blending of nature photography and natural history," he said of the book.  "If you look at natural history books, they tend to be dominated by words with few photos.  If you look at nature photography books they're dominated by images with few words.  I tried to bring these two together to create a visually inspiring and pleasing text at the same time that it's informative about the natural history of the park."
The book, entitled "A Place Called Turkey Run: A Celebration of Indiana's Second State Park in Photographs and Words" was released through Purdue University Press last week, and coincides with Indiana's Bicentennial.
"A Place Called Turkey Run" is about earth science but intended for a more general audience. This relates to Dr. Shepardson's research interest in geoscience education.  Dr. Shepardson explained how the book has an outreach and educational element to it.
"Ultimately I put the book together to honor and celebrate Turkey Run in its natural history and natural beauty but I also hope the book helps other visitors to the park to better understand the natural history and to hopefully better appreciate the natural beauty and the natural wonder that is Turkey Run," he said.
More information on the book can be found through Purdue University Press at http://www.thepress.purdue.edu/titles/format/9781557537560.