EAPS alumna recognized for research
08-15-2016
Writer(s): Logan Judy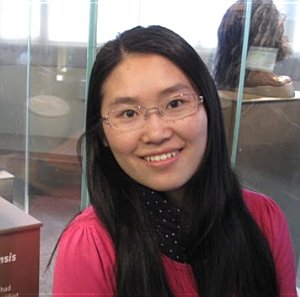 An EAPS alumna, Yaling Liu, has been honored with an award from the Ecological Society of America (ESA).
The Elizabeth Sulzman Award honors research conducted by a graduate student, and published within two years of his or her graduation. Liu, who received her Ph.D. from Purdue University in 2014, received the award for a journal article about drought in northern China, which was published by Scientific Reports in 2015. The award was officially presented at the ESA annual meeting on August 9.
Reflecting back on her time at Purdue, Dr. Liu said the Purdue environment was helpful in the development of her research.
"The vigorous research atmosphere and diverse research activities on campus greatly inspired and motivated me," she said. "The most helpful part was constant coaching from my advisors, from technical skills to critical thinking to research philosophy, as well as inspiring discussions with fellow lab mates."
In the article, Liu and her colleagues, including EAPS Professors Qianlai Zhuang and Dev Niyogi, analyze the conditions surrounding the region's dropping water supply. The analysis included recent changes in the region's climatology, but also considered agricultural practices in order to find a solution to the food security problem the region is facing.
"Alternative agriculture practices that could help meet food demand without compromising future water resources need to be pursued for sustainable agriculture," the authors concluded.
Dr. Liu is now serving as a Post Doctorate researcher at the Pacific Northwest National Laboratory of the United States Department of Energy. Her research is focused on human and nature interactions related to water and energy resources.
The award-winning article can be read in its entirety at http://www.nature.com/articles/srep11261.