New center of tornado activity in U.S. detected
08-10-2016
Writer(s): Logan Judy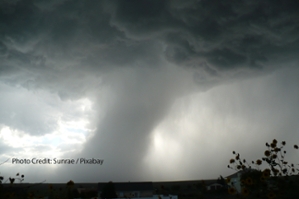 According to research by Dr. Ernest Agee and EAPS undergraduate students, the central area for annual tornado activity in the United States has shifted.
The article, published in American Meteorological Society's Journal of Applied Meteorology and Climatology, shows evidence that the central area of annual tornado activity has moved from Oklahoma to Alabama.
"This completely redefines annual tornado activity in the United States," Agee said.
Anticipating the problems climate change could cause in predicting severe weather, Agee's team studied data from the past sixty years to look for temporal shifts in annual tornado activity. They divided sixty years of data into two groups: 1954 to 1983 (a colder period) and 1984 to 2013 (a much warmer period). The data showed notable decrease in the traditional "Tornado Alley" while the autumn seasons brought substantial increases in tornado activity in "Dixie Alley" - from Mississippi to Indiana.
One region of Oklahoma, for example, had the greatest number of tornado days in Period I. In Period II, however, an Oklahoma region experienced the largest decrease in tornado days.  Central Tennessee had the greatest increase during the same period.
VORTEX-SE (Verification of the Origins of Rotation in Tornadoes Experiment Southeast), a Congress-initiated research project on the increasing amounts of tornadoes in the Southeast United States, supports their conclusions. VORTEX-SE is sponsored by the National Oceanic and Atmospheric Administration, and several EAPS faculty members have been involved in research into the increasing storms in the southeastern United States. The center for this research is in Alabama, the new center for U.S. annual tornado activity.  Dr. Michael Baldwin spoke about increasing inclement weather in the region via a press release in February.
"As compared to the Great Plains, the southeastern United States experiences more unexpected tornadoes from small storms, tornadoes at night and tornadoes outside of the traditional tornado season," he said.
Why are we seeing such a large change in tornado climatology?  While more research needs to be done on tornado distribution in the United States, Agee says it could be related to climate change.
"The geographical shift in tornado activity has been established through powerful statistical methods, and is shown to occur during two successive 30-year periods moving from a colder weather pattern to   warmer conditions," Agee said.  "More research is needed to search for changing climatic trends responsible for tornado formation and this geographical shift, but climate change is a distinct possibility."