Dr. Tanamachi receives Violet Haas Fellowship
12-09-2016
Writer(s): Logan Judy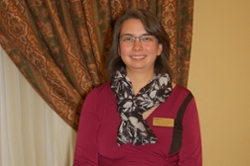 Assistant Professor Robin Tanamachi has been awarded the 2016 Violet Haas Fellowship.
The fellowship, named in honor of the late historic Purdue engineering professor, is given to assist pre-tenure faculty women with children who are in the College of Science or the College of Engineering. During her time at EAPS, Dr. Tanamachi has been heavily involved in the VORTEX-SE (Verification of the Origins of Rotation in Tornadoes Experiment Southeast) program, which studies the increase of unexpected tornadoes in the southeastern United States.
Dr. Tanamachi was recognized for the fellowship at a ceremony on December 1, along with recipients of the Violet Haas award, which is separate from the fellowship.