EAPS Grad students honored at Graduate Teaching Excellence Celebration
04-29-2016
Writer(s): Jill Wable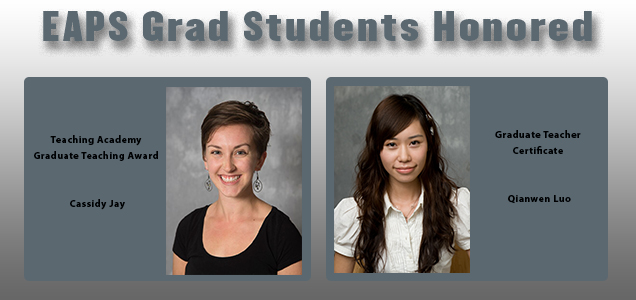 Graduate students were honored Tuesday (April 26) at the 18th Annual Celebration of Graduate Teaching Excellence, hosted by the Office of the Provost, Teaching Academy, Graduate School and Center for Instructional Excellence. 
The event recognized graduate students who earned Graduate School Excellence in Teaching Award, the highest honor Purdue gives to a graduate student, Teaching Academy Graduate Teaching Awards, Graduate Instructional Development Certificates (GIDC), Graduate Teaching Certificates (GTC), and Advanced Graduate Teaching Certificates (AGTC). 
EAPS celebrates its two graduate students recognized at the event for their accomplishments: Cassidy Jay and Qianwen Luo.
Cassidy Jay received a Teaching Academy Graduate Teaching Award. This award honors graduate students with teaching responsibilities from across campus for their dedication to Purdue students and their outstanding teaching contributions. Recipients are selected by each academic department for their commitment to undergraduate education. Departments may select one recipient for every 50 graduate teaching assistants they support. The Graduate Teaching Award is sponsored by the Teaching Academy and the Office of the Provost.
Qianwen Luo received an Advanced Graduate Teaching Certificates (AGTC). The Advanced Graduate Teacher Certificate (AGTC) program is centrally administered by the Center for Instructional Excellence (CIE). This program is designed for a select group of graduate students who have achieved an advanced level of teaching experience, skill and success. A certificate is awarded to those graduate students who successfully complete the AGTC program.