EAPS Professor Receives Recognition
05-10-2016
Writer(s): Jill Wable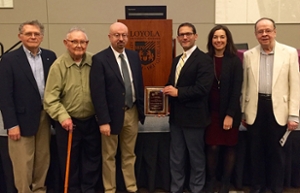 Congratulations to EAPS professor of biogeochemistry Tim Filley. On April 28, he received the Chemistry Alumnus of the Year award from the Department of Chemistry and Biochemistry at Loyola University of Chicago. The honor is bestowed upon respected graduates in recognition of their outstanding accomplishments and continued support benefiting the department. Prof. Filley received his B.S. degree in Chemistry from Loyola in 1990.
Prof. Filley received his Ph.D. in Geosciences from Pennsylvania State University in 1997. He is currently a professor of biogeochemistry in the Department of Earth, Atmospheric, and Planetary Sciences (EAPS) at Purdue, U.S. Director, US-China Ecopartnership for Environmental Sustainability,  a faculty affiliate for the Center for the Environment (Executive Committee), Purdue Climate Change Research Center (Founding Member), and Critical Zone Observatory Network (Intensively Managed Landscapes) Co-Pi and Executive Committee Member.
We are proud of the example you provide to your alma mater and are grateful to have you as a member of the EAPS Faculty.