EAPS Distinguished Science Alumni Recipient - Mark Longacre
05-12-2016
Writer(s): Jill Wable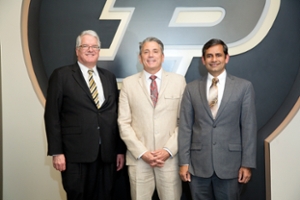 West Lafayette – Purdue College of Science honor eight alumni on April 15 at the 2016 Distinguished Science Alumni (DSA) awards celebration. Congratulations go to the 2016 EAPS DSA recipient, Mark Longacre (MS 1982 Geophysics, Purdue University). Pictured here, in the middle, with Dr. Jeff Roberts, Dean of the College of Science, and Dr. Indrajeet Chaubey, Department Head of Earth Atmospheric and Planetary Sciences. He was honored and presented an award for his outstanding professional achievements since graduating from Purdue.
Mr. Longacre graduated from the University of Wisconsin, Milwaukee in 1978 with Bachelor of Science degree in Geology. He then attended Purdue and graduated 1982 with a Master of Science degree in Geophysics.
"My thesis advisor was Dr. William Hinze, one of the most highly recognized and admired scholars in the world of gravity and magnetics. His knowledge, guidance and passion were, and still are, an inspiration to me. I am proud and honored to call him a mentor and a friend." said Mr. Longacre. Professor Hinze is now a Professor Emeritus in the EAPS department.
Mr. Longacre has been a professional geophysicist for the past 35 years, working exclusively as a gravity and magnetic specialist for the oil and gas exploration industry. He started his career in San Francisco with Sohio Petroleum in 1981 as a potential field geophysicist in the special projects group.
After transferring to Dallas, where Mr. Longacre earned an MBA degree in Technical Management from the University of Dallas, and then Denver in 1985, he joined Aqua Terra International, a gravity and magnetic consulting company, as manager of U.S. operations.
In 1991, Mr. Longacre started MBL, Inc., a gravity and magnetics consulting company in Denver. MBL specializes in the acquisition, processing, and integrated interpretation of gravity and magnetic data for the oil and gas exploration industry. In 1999, he opened a second office in London.
Over the past 26 years with MBL, Longacre has traveled to more than 60 countries doing a variety of specialized gravity and magnetic projects for the oil and gas exploration industry.
In 2009, Mark received the Outstanding Alumnus Award from the EAPS department. In 2013 and 2015, Mark taught the Applied Gravity and Magnetics in Exploration Course for the EAPS department. Since 2011, Mark has served on the EAPS Department Advisory Board.
We are grateful for Mr. Longacre's continued support to EAPS and congratulate him on this significant honor!