EAPS Astronaut meets "The Martian"
10-20-2015
Writer(s): Jill Wable
One of the best movies out with fall is The Martian. The movie depicts the journey of Astronaut Mark Watney. While on a manned mission to Mars, he is presumed dead from a strong storm and left behind on Mars by his crew. Watney finds himself alone and stranded on a barren planet. He must draw from his strength and talents to survive and make contact with Earth. The movie opens on Oct. 2, 2015.
During the movie launch event, our very own EAPS Alumnus and Astronaut, Drew Feustel (BS 1989; MS 1991), met with the Matt Damon, Director Ridley Scott, Author Andy Weir, and several others. Feustel discussed what he feels is special about the story is its ability to take topics, such exploring space and eventually visiting Mars, and bring those visions to life in a relevant way.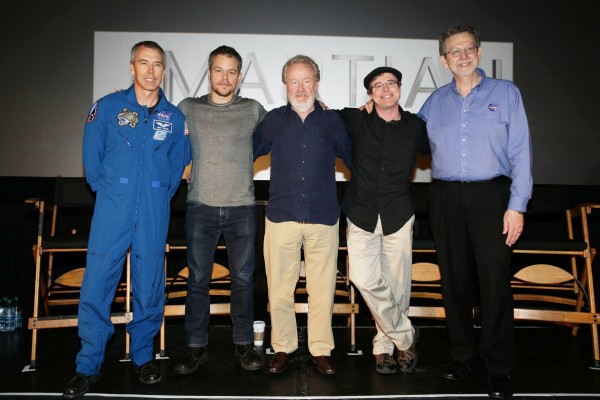 (L-R) Drew Feustel, Matt Damon, Director Ridley Scott, author Andy Weir and Dr. Jim Green, the Director of the Planetary Science Division of NASA at the Trailer Launch Event for the movie on Aug. 18, 2015.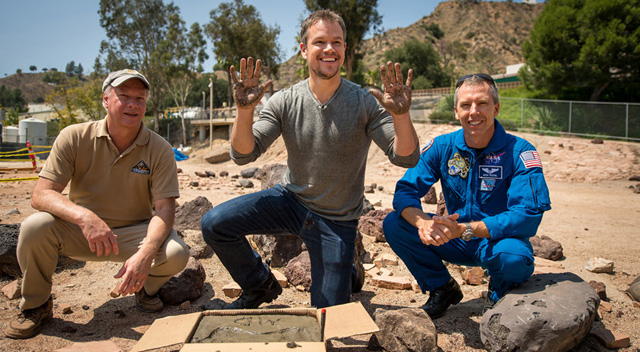 Drew Feustal with Matt Damon having hand prints made at NASA's Jet Propulsion Laboratory (JPL) Mars Yard in Pasadena California.