EAPS Professor interviewed at water seminar
08-28-2015
Writer(s): Jill Wable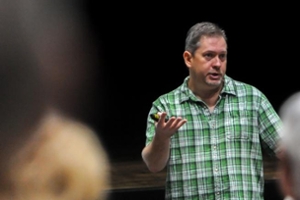 EAPS professor, Marty Frisbee spoke in Canon City, Colorado on August 22, 2015. The seminar, hosted by the Fremont Conservation District, bought local attendees together who shared an interest in water issues.
Two guest speakers were on hand to present at the event. Dr. Marty Frisbee, assistant professor hydrogeology at Purdue University discussed his experience and research studying  water in New Mexico and streamflow in Saguache County, Colorado. Dr. Brett Jordan, hydraulic engineer and HydroGeo Designs owner, spoke about his work with the Arkansas river.
EAPS is proud of all outreach activities performed by faculty. 
Read the article from the Canon City Daily Record.
Photo by Brandon Hopper /Daily Record