A Man of Education and Science: Prof Krockover Gives Back to the Dept
11-18-2015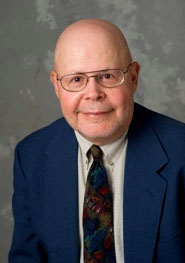 Dr. Jerry Krockover, Emeritus Professor, inspired and prepared thousands of aspiring science teachers and earth science educators during his 40-plus-year tenure at Purdue. His impact on students was not limited to only classrooms, however.
Krockover's Graduate Fellowship in Earth, Atmospheric, and Planetary Sciences has financially helped Earth, Atmospheric, and Planetary Sciences students in the form of $1,000 a year award. This support helps graduate students focus while pouring themselves into their research.
After seeing the impact of the graduate fellowship, Krockover and his wife, Sharon, decided to create a new endowment that centers on undergraduate students and their research. The Undergraduate Scholarship in Earth, Atmospheric, and Planetary Sciences will be awarded to students looking to travel to present research at conferences or professional meetings. This gives vital experience to a young EAPS student.
EAPS is not the only place Krockover's generosity is felt. Among the many Purdue organizations that have benefited from Krockover's support include Kappa Delta Pi International Honor Society in Education, President's Council, Science Dean's Club, Griffin Society, Liberal Arts Dean's Club, John Purdue Club and Jewish Studies.
Krockover said it is rewarding for him and his wife "to help ease the minds of students who would otherwise struggle to make it semester to semester financially."
An alumnus of The University of Iowa but a passionate Boilermaker since his West Lafayette arrival more than 40 years ago, Krockover has impacted thousands of students in the classroom or sitting next to them at a football game. He has been a proud season ticketholder for 44 years. Krockover is also a fixture at Owen Hall, serving as a senior faculty fellow for the residence hall. He has connected with students so much that he and his wife are often guests at their weddings.
While most of these student interactions dealt with education, science and quarterback controversies, Krockover would meet students that admitted struggling to maintain their enrollment due to financial limitations. They would tell him they had to take semesters off to work before reenrolling back into Purdue. He remembered another student who received a full national scholarship but the money was cancelled three months later because changes in the award were not approved.
Never to sit idle, Krockover sprang to action to generously develop the fellowship and now a scholarship.
Fewer students need to worry about affording another semester thanks to Krockover, a man for science, education and opportunity.