EAPS Honors 2015 Outstanding Alumni Awardees
09-25-2015
Writer(s): Jill Wable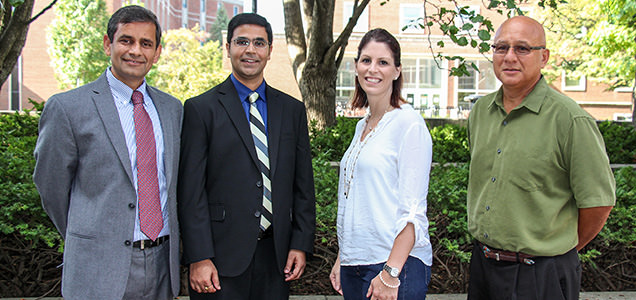 West Lafayette - The Department of Earth Atmospheric and Planetary Sciences (EAPS) hosted an awards ceremony and reception for the 2015 EAPS Outstanding Alumni. This award was presented to Ms. Michele Gutenkunst Mouri (MS 2006) and Dr. Dibyajyoti (Diby) Tripathy (PhD 2007). The two were honored and presented awards for their outstanding professional achievements since graduating from Purdue.
Ms. Michele Gutenkunst Mouri graduated from Purdue with her MS degree in 2006. Since then, she has held a variety of positions within Chevron including assignments as an exploration, appraisal, development, and operations geologist. She has worked the shelf and deepwater of the Gulf of Mexico as well as deepwater Nigeria from both the Houston, TX and Covington, LA offices.
Ms. Mouri currently resides in Mandeville, LA and acts as the lead operations geologist for the new Big Foot deepwater development (Gulf of Mexico). She is responsible for all pre-drill pore pressure/fracture gradient modeling and hazard analysis across the field along with real-time drilling support. In addition to her job responsibilities, Ms. Mouri is a co-site leader for the Gulf of Mexico Women's Network as well as the Earth Science Recruiting Team Lead for both Purdue and Indiana Universities.
Dr. Dibyajyoti Tripathy has a PhD in Earth Sciences from Purdue University (2007). He also has a MS in Geohydrology from Illinois State University (2002), and a MSc in Applied Geology from Indian Institute of Technology, Bombay, India. Dr. Tripathy joined Chevron upon graduating from Purdue. Currently, he is a Team Leader of Exploration and New Ventures for Chevron Mid-Continent Business Unit based in Houston.
Dr. Tripathy is a distinguished Subject Matter Expert at Chevron in exploration and appraisal of unconventional resources (i.e., Shale Gas, Shale Oil or Tight Oil). He is recognized for outstanding contributions to developing and improving Chevron's proprietary standards, tools and workflows for evaluation, ranking, prioritization, and acquisition of Shale Gas and Tight Oil assets. Dr. Tripathy is a recipient of the selective Chevron North America Exploration and Production Company President's Award for his significant contributions to Chevron's acquisition of Shale Assets. Dr. Tripathy has also served as a member of the top corporate team that provides geotechnical consulting and leadership for Chevron's global exploration and new venture efforts.
Though relatively early in his career, Dr. Tripathy has been promoted to a leadership position since 2014. His current team in Chevron Mid-Continent Business Unit is responsible for finding and maturing next set of growth opportunities in unconventional resource plays. Dr. Tripathy actively mentors and serves as a role model for new and early career geotechnical employees in Chevron. Dr. Tripathy also actively contributes to Oil and Gas Industry publications and conferences as invited reviewer for acceptance of oral and poster submittals for AAPG conferences, judge for AAPG/SEG student expos, and as peer-reviewer for manuscripts in petroleum system modeling and in unconventional resource exploration, appraisal, and development.
The two were recognized at a departmental reception and ceremony. They both spoke about their careers and the role that their EAPS experiences have played in their lives. Ms. Mouri and Dr. Tripathy were also able to visit with EAPS faculty members and students. The department was pleased to present them with this significant honor!