Purdue assistant professor taking Purdue to Mars in 2020
08-04-2014
Writer(s): Amy Cooper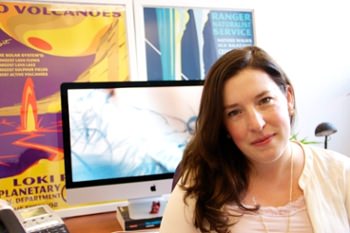 WEST LAFAYETTE, Ind. – Briony Horgan, an assistant professor in Earth, Atmospheric, and Planetary Sciences at Purdue University, is the co-investigator of an instrument that will be traveling to Mars for a NASA rover mission in 2020.
The instrument is a camera system called the Mastcam-Z. It is one of seven instruments selected by NASA that the 2020 Mars rover will carry to the red planet. Mastcam-Z will be the main science camera on the rover. It is similar to the camera used in NASA's Mars Science Laboratory, Curiosity, with updated features like stereoscopic imaging and a zoom capability. With the upgrades, this pre-existing instrument is low-risk and a good choice for this mission, said Horgan.
What sets the Mars 2020 rover mission apart from its predecessors is that it will be looking for bio signatures, or evidence of ancient Martian life. "That's different from previous rovers which were really just looking for really basic things like water, or how habitable was the environment," said Horgan. The 2020 rover will also collect and cache samples that will eventually be brought back to Earth.
This mission will also help advance the knowledge of human exploration of Mars. The rover will test technologies humans may need to land on Mars, explore and return to Earth. A better understanding of the Martian environment will make human exploration of the planet more feasible.
"Being on a mission is definitely the best thing you can do, actually making the data, and guiding science and where it's going to go," said Horgan.
Now that the instruments have been chosen, the real work begins for Horgan and all those involved in the mission.
"The proposal is not just the instrument itself; it's also what kind of science you're going to do with the instrument, which is really important," she said.
Over the next six years, the instrument will be built at Malin Space Science Systems in California, tested at Arizona State University and finally assembled with the rest of the rover at Kennedy Space Center in Florida. Once the rover lands, Horgan and her students will be involved in day-to-day operations, as well image calibration.
Horgan began at Purdue in January and her research interests include Planetary Geology, Infrared Spectroscopy, Mars Analogs, Surface Weathering and Aeolian Geomorphology. In the past, she has been a part of various science investigations with NASA, but this is her first involvement in a mission.
NASA's Mars Exploration Program seeks to characterize and understand Mars as a dynamic system, including its present and past environment, climate cycles, geology and biological potential. In parallel, NASA is developing the human spaceflight capabilities needed for future round-trip missions to Mars.
NASA's Jet Propulsion Laboratory will build and manage operations of the Mars 2020 rover for the NASA Science Mission Directorate at the agency's headquarters in Washington.
Writer: Amy Cooper, ancooper@purdue.edu
Source: Briony Horgan, briony@purdue.edu