Planetary Systems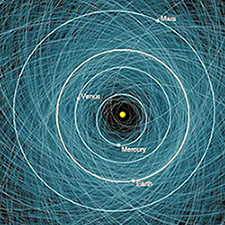 We use observations of populations of solar system objects and their orbits to study the formation and evolution of planetary and satellite systems to understand how our Solar System and others developed through time.
Planetary Surfaces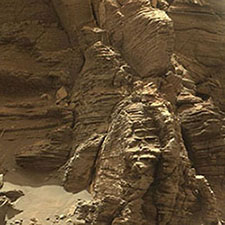 We study the mineralogic, climatic, and tectonic evolution of planetary surfaces to understand how these environments have developed over time, and the potential for past and future habitability on and beneath planetary surfaces.
Asteroid Impacts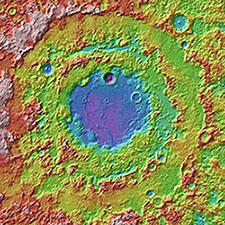 We study the complete evolution of impact craters, from excavation to transient crater collapse, through cooling and viscoelastic relaxation. We also study the hazards produced by impacts and how we might prevent them.
Spacecraft Missions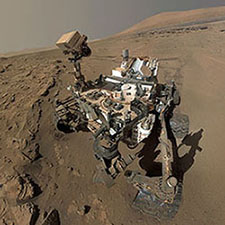 Our group has been and continues to be involved with a number of spacecraft missions, including GRAIL, MESSENGER, Deep Impact, NExT, EPOCH, EPOXI, Mars Odyssey, Mars Science Laboratory, and the Mars2020 rover.
Planetary Science News
EAPS Student Awarded Indiana Space Grant for Carbonaceous Chondrites Research
07-30-2019
EAPS graduate student Dara Laczniak has an ambitious research project. She believes clues to the origin of life on Earth and evolution of the Solar System may lie within a specific type of space rock.
EAPS Graduate Student Investigating Mercury Impact Basin
07-10-2019
Mars gets a lot of attention these days, but other planets have important things to teach us, as well. Take Mercury, for example, which EAPS graduate student Greg Gosselin is studying.
Dr. Freed Receives Outstanding Faculty Fellow Award
04-22-2019
EAPS Professor Dr. Andy Freed has received the Frederick L. Hovde Outstanding Faculty Fellow Award in recognition of his service in developing relationships with students.
Dr. Thompson to Investigate Untouched Apollo Samples
04-16-2019
While much attention is sometimes given in planetary research to the possibility of returning samples from new celestial bodies, one of the great opportunities for research actually comes from the past. Many samples taken from past missions, including those from the Apollo program to the Moon, were vacuum sealed and never exposed to Earth's atmosphere.
EAPS Study Identifies Source of 'Crater Equilibrium'
04-08-2019
After several years of study, one thing is clear about the lunar surface: it is a very dynamic environment that changes over time. One example of this can be seen in the way that small craters degrade at the same rate as they form, keeping the number of small craters on the lunar surface constant over time. This equilibrium between the formation and degradation of craters also makes it difficult to judge the scale of close up images of the lunar surface. EAPS scientists have taken a crucial step in solving this problem in a publication authored by Dr. David Minton and coauthored by EAPS undergraduate student Bryan Howl.