Extreme
Weather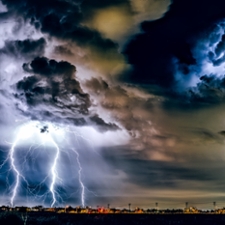 EAPS faculty and students use observations and numerical modeling to better understand the physics, predictability and impacts of extreme weather systems, including thunderstorms, tornadoes, and tropical cyclones, and their variability within the climate system.

Climate
Dynamics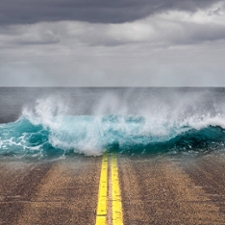 The fundamental physics and processes of the regional and large-scale climate system and its variability (such as monsoons, El Nino, the jet stream), and intraseasonal variability are topics of research by our faculty and students.

Surface-ATMS Interactions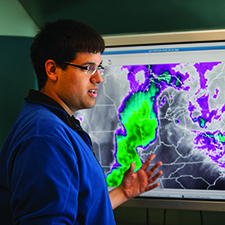 Select EAPS faculty and students study the exchange of energy and matter between the atmosphere and the Earth's surface, including sea, land, and vegetation.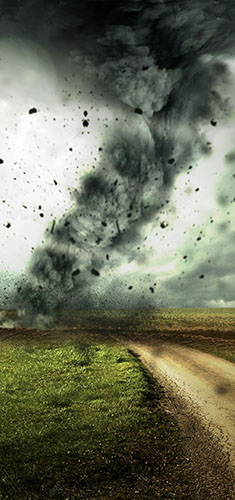 Atmospheric Science News
EAPS-Led Research Explains Why Central Pressure Deficit is a Good Predictor of Storm Damage
11-09-2017
The system for categorizing hurricanes accounts only for peak wind speeds, but research published in Nature Communications explains why central pressure deficit is a better indicator of economic damage from storms in the United States.
Dr. Huber's Research Identifies Source of Urban Cooling Effect
10-31-2017
As Earth's climate continues to warm, the urban heat island effect raises concerns that city-dwellers will suffer more heat stress than their rural counterparts. However, new research suggests that some cities actually experience a cooling effect.
Research by Dr. Niyogi Helps Predict Heavy Rains in Monsoon Regions
09-08-2017
As heavy flooding events, including those in Houston, Texas, and Mumbai, India, continue, research teams from Purdue University and India have been working on improving the models that can help predict heavy rainfall from weather events.
Research by Dr. Shepson reveals questions about air pollution
09-07-2017
New measurements of molecular iodine in the Arctic show that even a tiny amount of the element can deplete ozone in the lower atmosphere.
New Version of Scholar Powers Meteorology Classes
06-12-2017
Learning scientific computing for the first time can be challenging enough, without the additional hurdles of installing and configuring the necessary software. Thanks to the updated, interactive features of Purdue's Scholar cluster, those hurdles have been removed for Dr. Baldwin's meteorology students.