Visualizing Nature: A Journey Through the Midwest in Photographs and Words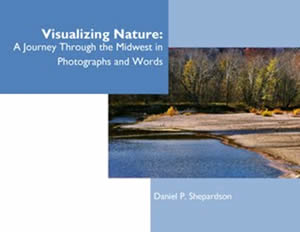 Visualizing Nature takes the reader on an exploration of natural landscapes found in many local places in the Midwest. As the reader's eye moves from page to page, images of nature are complemented by explanatory text. These merge in a way that gives meaning to nature, the ability to see and read not only the image but also nature itself.
Chapter 1, "Weathered and Eroded Land," addresses the geological processes of uplift, weathering and erosion, and mass wasting as these contour natural landscapes. Chapter 2, "Glacial Landforms," explores the marks left by glaciers past eroding rock and depositing rock as fascinating landforms that influence today's rivers, wetlands, prairies and woodlands.
In Chapter 3, "River Run," readers are invited to experience the fluvial processes associated with rivers and the landforms and landscapes they create through the erosion, transportation, and deposition of sediments. In Chapter 4 "Wetlands," readers explore the hydrologic and ecological importance of wetlands. In Chapter 5 "Prairie Beautiful," readers traverse the open and rolling terrain of the prairie landscape. Covered with a sea of grasses, flowers or forbs, and the occasional tree and shrub, prairies give the sense of a boundless and limitless landscape awash with both brilliant and subtle colors. Chapter 6, "Into the Woods," takes readers on a hike through the seasonal landscapes of the deciduous forest. The journey starts with the great bloom of the spring wildflowers, followed by the summer ferns and fungi, then the brilliant colors of fall that give way to a wonderland of snow and ice.