Atmosphere-Surface Interactions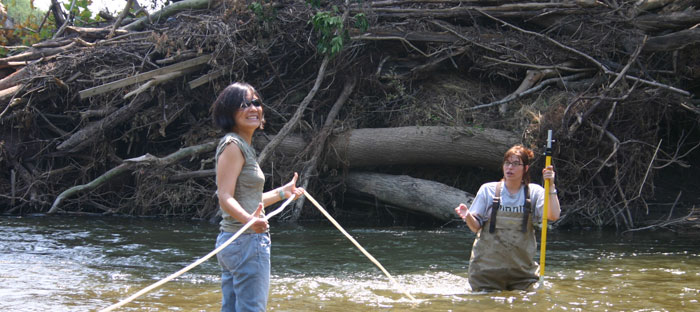 transformed by the SPACE AROUND YOU
Many fundamental issues in climate, environmental, geological, and ecological studies require an in-depth knowledge of the rates and forms of exchange of chemical species, mass, and energy between the atmosphere and the earth's surface.
 
Such exchanges are relevant over a large range of spatial and temporal scales, e.g., from the rapid turnover times, hours to days, of volatile organic carbon emissions within a forest canopy to incremental changes in global concentrations of atmospheric greenhouse gases and their feedbacks to climate over tens of millions of years.
 
Knowledge of the mechanisms governing atmosphere-surface interactions is essential to our understanding of both modern and geologic record and will permit us to speculate about how perturbations to the earth system are potentially mitigated or amplified by feedbacks within that system.
Affiliated Faculty & Research Area 
---
| | |
| --- | --- |
| Indrajeet Chaubey | Ecohydrologic processes affecting fate and transport of sediment, nutrients, and pesticides from various land use activities and developing watershed management strategies to improve water quality |
| John Cushman | Geohydrology, Porous Media Physics, Spatial Variability, Applied Math and Statistics |
| Tim Filley | Molecular, stable-isotope biogeochemistry of soils and sediments |
| Jon Harbor | Hydrologic impacts of land use change, environmental management, environmental education, Quaternary geology and glacial geomorphology |
| Greg Michalski | Stable isotope biogeochemistry, nitrogen deposition, atmospheric chemistry, environmental chemistry, nutrients in extreme environments, paleoclimate proxies |
| Dev Niyogi | Remote sensing of biosphere, stomatal conductance-photosynthesis models, gaseous deposition and bidirectional exchange, aerosol impacts on terrestrial carbon-water cycle |
| James Ogg | Earth history (past 600 million years), Paleooceanography, paleoclimate cycles, marine geology, paleomagnetics |
| Dan Shepardson | Geoenvironmental Education, Learners' Conceptions, Social Interaction, Science Journals, Alternative Assessment |
| Paul Shepson | Atmospheric chemistry, tropospheric ozone and photochemical smog, atmospheric chemical measurements, modeling of tropospheric photochemistry, air-surface interactions in the Arctic |
| Yuch-Ning Shieh | Stable isotope geochemistry, oxygen, hydrogen, and carbon isotopes in igneous and metamorphic petrology, sulfur isotopes in coal and mineral deposits |
| Wen-Yih Sun | Geofluid dynamics, numerical modeling of mesoscale meterology and regional climate boundary layer meteorology, land-atmosphere and air-sea interactions, surface hydrology |
| Lisa Welp | Stable-isotope biogeochemistry, exchange of water and carbon dioxide between land biosphere and atmosphere, boreal forest carbon cycle |
| Qianlai Zhuang | Ecosystem dynamics, biogeochemical cycling, greenhouse gases, ecological and ecosystem modeling |
| Bill Zinsmeister | Paleontology, stratigraphy, biostratigraphy, biogeography, field geology |
Related Groups:
---
Useful Links 
---
Ecosystems and Biogeochemical Dynamics Laboratory