People
Lead Investigator
Graduate Students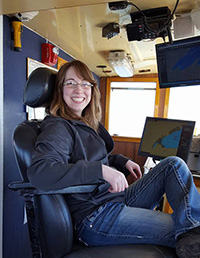 Alexandra Meyer
Ph.D. Candidate in EAPS
Email

Ali Meyer is an EAPS Ph.D. candidate and the recipient of a NSF Graduate Research Fellowship and a Purdue Doctoral Fellowship. Her research will focuses on water isotope applications in meteorology and evaporation from the Great Lakes. She studied chemistry and biology at the University of Saint Francis in Fort Wayne, Indiana. Ali was involved in many research projects and summer programs during her undergraduate career, including classes in nuclear chemistry at Brookhaven National Lab and a REU in bioenergy at the University of Nebraska Lincoln. Her passion for the environment and field-work led her to the Welp lab, where she hopes to obtain her Ph.D. In her spare time, Ali enjoys knitting and reading.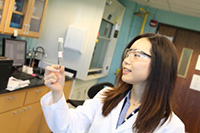 Youmi Oh
Ph.D. Candidate in EAPS
Email

Youmi Oh is an EAPS Ph.D. candidate and the recipient of a NASA Earth and Space Science Fellowship, a Henry Silver Graduate Scholarship, a Ross Graduate fellowship, and a PCCRC graduate student incentive award. Youmi's research focuses on the carbon cycle. She uses stable carbon isotopes in tree leaves to study how plants respond to environmental change, including drought stress. She is also modeling methane oxidation in terrestrial ecosystems in collaboration with Dr. Qianlai Zhuang also in EAPS. Youmi comes to the lab with a MS in Atmospheric and Ocean Sciences from Princeton University where she created a model of methane consumption in Arctic mineral soils. Before that, she earned her BS in Environmental Engineering and Biology from the Ewha Woman's University in South Korea.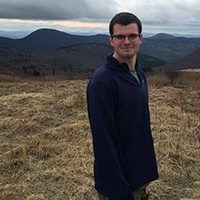 Spencer Willem
MS student in EAPS
Email

Spencer Willem is a M.S. candidate, and his research focuses on nutrient loading and residence times in tributaries of the Wabash River. Spencer completed his B.S. at the University of Evansville and majored in Environmental Science, Biology, and chemistry. His undergraduate research interests were in environmental microbiology and included an internship at the Smithsonian Environmental Research Center studying the genetics of anaerobic bacteria that produce the toxic organometallic compound methylmercury. His interest in hydrology and geochemical cycling led him to pursue a graduate degree in Dr. Welp's lab. Spencer's hobbies include photography, travelling, and camping.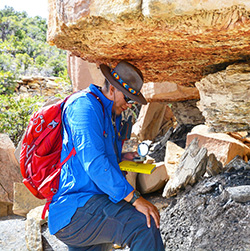 Slick Derrick
MS student in EAPS

Derrick J Slick is a M.S. candidate, and his research is in the southwestern U.S., where there are two ways groundwater is recharged, rainfall and snowmelt, providing a critical resource for water-scarce communities. The relative importance of snowmelt and rainfall is poorly known and varies regionally. Variation in the stable isotope ratios can identify contributions from rainfall and snowmelt. He proposes using hydrogen and oxygen isotopes to determine the water budget of the Black Mesa region within the Navajo Reservation in Northern Arizona. The Navajo (Dine) people, have traditionally relied on springs and alluvial aquifers to maintain their identity and lifestyle for hundreds of years before and after colonization. The past several decades have seen a progressive decrease in discharge from springs and alluvial aquifers that has had a direct impact on the Dine people. Moving forward as an Indigenous community, his research will focus on data collection, analysis, and recommendations for practical use by water managers for future planning and sustainability. Derrick is the recipient of an NSF Graduate Research Fellowship and is co-advised by Dr. Ridgway and Dr. Welp.
Undergraduates

Foeppel Jared
(Spring 2018 - )

Jared Foeppel is a BS major in Environmental Geoscience at Purdue University. He has participated in the Welp lab since spring 2018. He has analyzed water isotope compositions of local precipitation and streams from the Wabash River sampling blitz. Most recently he has been analyzing carbon isotopes through the separation of sugars and startches. He is excited to present his research at the Fall 2019 Undergraduate Research Exposition.

Beck Emma
(Summer 2018)

Emma Beck participated in the Purdue summer SURF program during the summer of 2018 in the Welp lab. She is using statistical methods in R to examine water isotope and nutrient concentrations from the Wabash River sampling blitz. She is a BS major in statistics.

Logan Eder
(Fall 2016 -Spring 2017 )

Logan Eder graduate with a BS in Chemistry and worked in the Welp lab on method development for achieving 'per meg' precision of 17O-excess values of water using the Los Gatos Research Triple Liquid Water Isotope Analyzer. This is a potential tracer of evaporation influence. She is currently working on a MS in forensics at Ball State University.

Guarav Mittal
(Spring 2016 - Spring 2017 )

Gaurav Mittal volunteered in the Welp lab (2016-2017) while an earning his undergraduate degree in Chemical Engineering. During the summer of 2016, he interned at the EPA in Washington, D.C. He continued his studies earning a MS in Environmental Engineering at Berkeley. He is currently a Water Resource Control Engineer with the San Francisco Bay Regional Water Quality Control Board.

Brad McGinley
(Spring 2016)

Brad was a BS major in Environmental Geosciences in EAPS who graduated in the Spring of 2016. He did a semester of undergraduate research in the Welp lab analyzing the oxygen and hydrogen isotopes of stream water collected as part of the Wabash Sampling Blitz (http://www.wabashriver.net/wabash-sampling-blitz). He used GIS to look at spatial patterns of the isotopes and correlated variability to land use type and soil drainage class.
Alumni

Olivia Salmon
Ph.D. in Chemistry, 2018
Email

Olivia Salmon completed her Ph.D. in chemistry co-advised by Dr. Paul Shepson and Dr. Welp. She investigated atmospheric chemistry and water vapor stable isotopes above urban areas of Indianapolis and Washington D.C.. She flew the Welp lab water vapor isotope analyzer (LGR) doing vertical profiles up- and downwind of Indianapolis and Washington, D.C. during winter months. Olivia has a BS in Chemistry from Marquette University. She is currently an Air Policy Analyst at the Wisconsin Department of Natural Resources.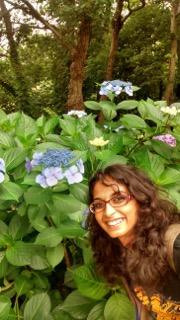 Apurupa Gorthi
M.S. in ESE, 2017

Apurupa Gorthi is a Research Analyst at the Council on Energy, Environment and Water (CEEW), a policy research think tank. She is currently developing policy options for India's upcoming HFC transition as part of the Kigali Amendment under the Montreal Protocol. Her research interests lie broadly in climate change mitigation policy and the food-water-energy nexus. Prior to joining The Council, Apurupa served as a research intern and project lead for the Food and Water Security team in the Think Tanks and Civil Societies Program at the University of Pennsylvania. During her time there, Apurupa investigated the evolution of food and water security in academic literature while also researching the role of think tanks in policy research and governmental action. Apurupa holds an MS from EAPS through the Ecological Sciences and Engineering interdisciplinary program from Purdue University. The concentration of her master's thesis was the water use efficiency of mid-western US agricultural crops including soybean, Miscanthus and switchgrass. She holds an undergraduate degree in Chemical Engineering wherein her thesis focused on developing a non-chemical method for treating industrial wastewater. Her interest in climate change action led her to intern at the University of Tokyo wherein she worked on oceanic sequestration of carbon dioxide.
Staff
Postdoctoral Researchers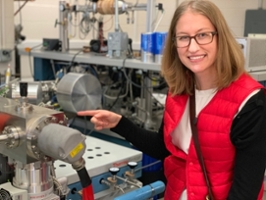 Elizabeth Olson
Postdoc
Email
Curriculum Vitae

Elizabeth Olson is an EAPS NEXUS Institute Postdoctoral researcher. Funded by the NEXUS collaboration between Purdue University and the Universidad Nacional de San Agustin (UNSA). Her research focuses on determining the sources of air and rain pollutants using geochemical and isotopic tracers in the city of Arequipa, Peru. Elizabeth is an undergraduate alumnus of the University of Florida Geology and Anthropology departments. While at the University of Maine Climate Change Institute she studied Holocene ENSO events on the North coast of Peru. Elizabeth received her PhD from Northern Illinois University in 2018 where she researched Holocene water-availability in the Atacama Desert using tree-ring isotopes. As a doctoral student Elizabeth received multiple awards including the Geologic Society of America's Quaternary Division Morisawa Award and the NSF Funded Inter-university Training for Continental-scale Ecology Research in Residence Grant.

Odiney Maria Alvarez-Campos
Postdoc
Email

Dr. Alvarez-Campos is working on two projects supported by the Arequipa Nexus Institute. The first is studying groundwater recharge in the Characato District of Arequipa, Peru using aqueous geochemistry and stable isotopes. Consistent groundwater resources support a significant amount of urban agriculture and provide an important drinking water supply in the city of Arequipa. The second project is investigating the causes of salinization in major desert irrigation agricultural systems. Understanding the causes of salinization is important for mitigating degradation in soil health and contamination of freshwater resources near the irrigation seepage discharge region.

Magara-Gomez Kento
Postdoc

Dr. Magara-Gomez worked on understanding sources of air pollution in Arequipa, Peru as part of the Arequipa Nexus Institute work. He generated an emissions inventory for NOx and SO2 and led an analysis of black and brown carbon on aerosol filter samples from the region. In addition, he investigated potential PM2.5 and PM10 sampling biases using standard equipment at high elevation. Current position: Associate Professor, Environmental Engineering Department, Universidad Pontificia Bolivariana - Seccional Bucaramanga, Santander, Columbia.
Visiting Scholars

He Zhonghua
Visiting Ph.D. student (2018-2019)

Zhonghua He was a visiting student supported by the PhD scholarship from University of Chinese Academy of Sciences (UCAS) Joint PhD Program. He is a third year PhD student of the Institute of remote sensing and digital earth, Chinese Academy of Sciences, Beijing, China. He studied remote sensing science and technology in Wuhan University, Wuhan, China. He focuses on remote sensing applications to global carbon cycle research. He used data mining method doing global carbon cycle researches of biosphere-atmosphere interaction and extreme events detection. He studies terrestrial carbon flux variations with global climate change.
Hu Yongbo
Visiting Ph.D. student (2019-2020)

Mr. Hu is a Ph.D. student at the Nanjing University of Information Science and Technology, China. He is working with Dr. Welp on quantifying the isotopic signature of evaporation from Lake Taihu in China using a new modeling framework developed with collaborators at Dartmouth. Stable isotopes of atmospheric vapor and precipitation may help us to understand the role that large lakes play in the regional hydroclimatology.