Prof. Briony Horgan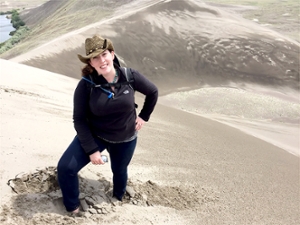 Assistant Professor of Planetary Science
Briony Horgan received her BS in Physics from Oregon State University in 2005 and her PhD in Astronomy and Space Sciences from Cornell University in 2010, then was an Exploration Postdoctoral Fellow at Arizona State University until joining EAPS in 2014. Her research program uses data from NASA satellites and rovers, along with lab and field work back on Earth, to understand the surface processes that have shaped Mars and the Moon. She is particularly interested in using mineralogy to investigate weathering and past surface environments on Mars, as well as volcanic, sedimentary, and impact processes on both planets. Briony is a Participating Scientist on NASA's Mars Science Laboratory rover mission and a Co-I on NASA's upcoming Mars 2020 rover mission, the first step toward Mars Sample Return. Briony loves getting to conduct field work all over the world, and enjoys outdoor activities outside of work too, including backpacking, camping, kayaking, and scuba diving.
Researchers
Alicia Rutledge
Alicia earned her BS in Aerospace Engineering and her MS in Forestry from Texas A&M University in 2004 and 2006. She earned her PhD in Geological Sciences from Arizona State University in 2015. Alicia's research integrates remote sensing, field work, and lab work to better understand planetary surface processes and the role of climate in alteration processes. She is especially interested in using geochemistry and mineralogy to investigate cryosphere-bedrock interactions on Earth and Mars. Her work with Dr. Briony Horgan in EAPS focuses on investigating the composition and origin of weathering products at Mars analog field sites in the Cascades Range, Oregon, USA. Alicia is a team member on the Thermal Emission Imaging System (THEMIS) aboard NASA's Mars Odyssey.
PhD Students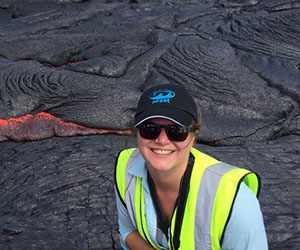 Marie McBride Henderson
Marie received her BS in Solar, Earth, and Planetary Sciences from the Florida Institute of Technology in 2013. After graduation, Marie worked at Malin Space Science Systems in San Diego, CA as a member of the Mars Curiosity Rover's MAHLI camera team before returning to Purdue to earn a PhD in Planetary Science. Marie's research focuses on volcanic deposits found on the Moon. She uses spectroscopy of glasses on the lunar surface as well as analog samples on Earth to understand the volcanic eruptions from which they formed. Marie is a science team collaborator on the Mars Science Laboratory mission, an NSF fellow, and receipient of the Indiana Space Grant Fellowship and the Amelia Earhart Fellowship. Outside of her research, Marie gives outreach talks to everyone from Kindergarten to senior citizens and trains for and has completed an Ironman triathlon.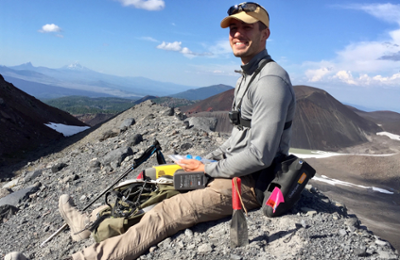 Noel Scudder
Noel received his BS in Physics and Astronomy/Planetary Sciences from Stony Brook University in 2015. His research involves understanding the geologic and climate history of Mars through investigation of weathering processes in cold Mars analog environments. His work combines remote sensing data analysis, laboratory work, and fieldwork at the Three Sisters volcanic complex in Oregon. Noel is a science team collaborator on the Mars 2020 rover mission, a NASA Earth and Space Science Fellow, and a receipient of the Indiana Space Grant Fellowship.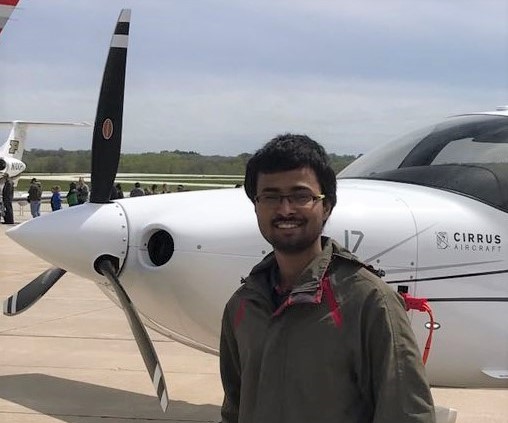 Prakhar Sinha
Prakhar completed his undergraduate degree in Mechanical Engineering from Ramaiah Institute of Technology, India. He then went on to receive his Master's in Aeronautics and Astronautics from Purdue in 2018 where he was motivated to pursue Planetary Sciences. His current research, under the supervision of Professor Briony Horgan, focuses on understanding the mineralogy and surface processes at the north polar region of Mars using visible and near-infrared spectroscopy from orbit. Prakhar is a fellow in the NASA Future Investigators in Earth, Space Science, and Technology program. In addition, he enjoys exploration and has been on multiple high-altitude Himalayan Expeditions and is also an advanced open water diver.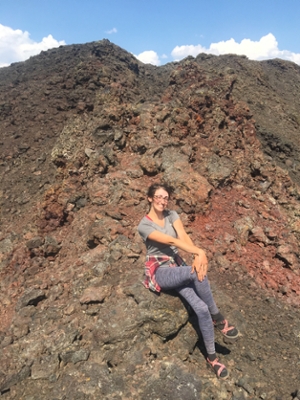 Amanda Rudolph
Amanda earned her BS in Geology from Western Washington University in 2018. Thanks to all of the help and support she received during her undergraduate career both at WWU, at an internship at the Lunar and Planetary Institute, and from many others, she was able to make the journey out to begin her graduate career in Indiana! Her current research is working towards creating a mineralogy map of Gale Crater, Mars, where the Mars Science Laboratory Curiosity rover currently resides, using remote sensing data. Amanda is a recipient of the Indiana Space Grant fellowship.
Brad Garczynski
Brad received his BA in Earth Science modified with Biology from Dartmouth College in 2016. After graduation, he taught a semester of high school geology in Zermatt, Switzerland and then returned to Dartmouth to work as a research assistant under Dr. Marisa Palucis, where he studied the timing of alluvial fan and delta features in the Gale Crater region. His current research focuses on identifying biosignatures in lacustrine carbonates using Mars 2020 instrumentation. Brad is a recipient of the Lewis and Clark Fund for Exploration and Field Research for his field work at Lake Salda, Turkey, in 2019.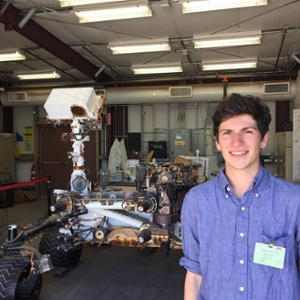 James Haber
James earned his BA in Physics with minors in Astronomy and Mechanical Engineering in 2018 from Cornell University. He is interested spacecraft mission design and operations with the goal of finding habitable environments and signs of past and present life in our solar system. James' current research is focusing on studying redox gradients in Gale Crater on Mars using data from the Curiosity rover. His past research includes studying the breakdown of rocks on the lunar surface at NASA JPL and analyzing trajectories for the Europa Clipper mission.
Alumni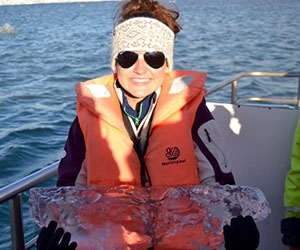 Sheridan Ackiss - PhD in Planetary Science, 2019
Sheridan received her BS in Applied Mathematics from the Georgia Institute of Technology in 2012. After graduation, Sheridan worked at the Applied Physics Lab in Laurel, Maryland as a member of the Mars Reconnaissance Orbiter (MRO) Compact Reconnaissance Imaging Spectrometer for Mars (CRISM) Science Team. Her research uses remote sensing data to study the mineralogy and morphology of possible subglacial volcanoes on Mars. This research is complimented by analog field studies in both Oregon, U.S.A. and Iceland. Sheridan graduated in May 2019 and is now a postdoc at the University of Idaho.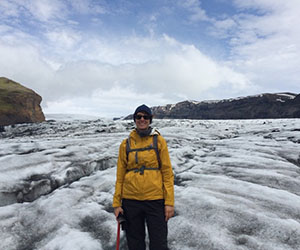 Rebecca Smith - Postdoc 2016-2018
Rebecca Smith received her BS in Geology from UC Berkeley in 2010 and her PhD in Geology from Arizona State University in 2016. Rebecca's research utilizes laboratory and remote sensing techniques as well as fieldwork to try to constrain chemical weathering environments on Mars. Her work with Prof. Briony Horgan at Purdue University focused on characterizing the composition of amorphous weathering products found in soils and sediments formed in a variety of terrestrial weathering environments, in order to understand the importance of amorphous phases found in Gale Crater on Mars. She is also a Mars Science Laboratory science team member. Becky is now a postdoc at Stony Brook University.