Research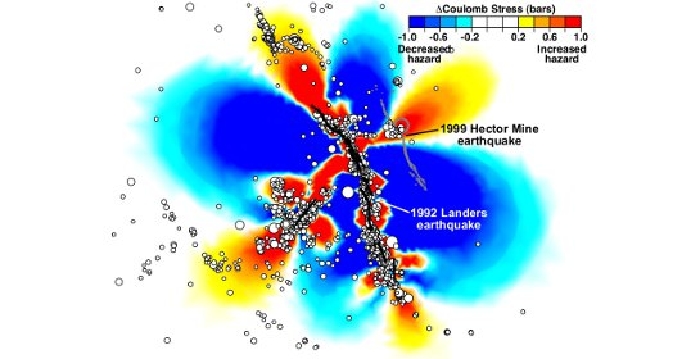 Previous Studies
Earthquake triggering is the process by which an earthquake on one fault can cause an increase in stress on neighboring faults, resulting in earthquake sequences. Understanding the manner in which faults communicate to each other through stress changes can be used to identify regions of elevated seismic hazard (see our review article on the subject: Freed, Annual Reviews, 2005). Our group was the first to show that postseismic relaxation of a viscous mantle can induce a time-dependent transfer stress that may explain the time-delay in earthquake sequences, such as the triggering of the 1999 M7.1 Hector Mine earthquake following the 1992 Landers earthquake (Freed and Lin, Nature, 2001). A similar study shows that diffusion of stress following these earthquakes is currently building stress on faults close to the Los Angeles region (Freed and Lin, Geology, 2004). Postseismic relaxation may explain the triggering of the 2002 M7.9 Denali earthquake following the great 1964 M9.2 Alaska earthquake (Ali and Freed, GJI, 2010), and may explain why seismic activity appears to toggle between the two major strike-slip fault systems in Haiti (Ali et al., GJI, 2008). In a broad study of southern California earthquakes over the past 200 years, we determined that consideration of stress changes associated with postseismic relaxation is a significant factor in the triggering of earthquakes (Freed et al., GJI, 2007).
Current Studies
With the finding that the 2010 Haitian earthquake occurred on the previously unmapped Léogâne Fault, we are now addressed the question of what this means for the potential of an earthquake to occur on the Enriquillo Fault that passes through the heavily populated Port-au-Prince region. We are also working to understand a sequence of earthquakes in the northern Baja region of Mexico, culminating in the 2010 El Major earthquake. If we can interpret the stress communication between the faults that has led to this sequence, we may better understand how these earthquakes have influences faults within nearby southern California.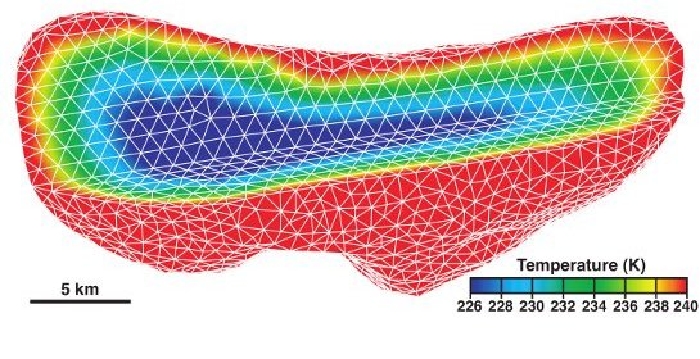 Previous Studies
Our main focus is the understanding of the implications of billion-year-old faulting within impact basins on the Moon and Mercury. We used finite element models to infer that overlapping regimes of thrust and normal faulting within several lunar mare basins results from extrusive volcanism occurring as the Moon cooled and its lithosphere grew in thickness (Freed et al., JGR, 2001). Within the Caloris Basin on Mercury, our models suggest that overlapping thrust and normal faulting indicate a transition from extrusive volcanism occurring within the basin to its occurrence outside the basin (Kennedy et al., JGR, 2008). More recently, we have shown that an unusual pattern of normal faults emanating from the center of the Caloris Basin may have resulted from a smaller impact at the basin center that caused the perturbed a pre-existing existing extensional stress field (Freed et al., EPSL, 2009). We have also developed a model to infer that observed lineations on the surface of the asteroid Eros can be explained by thermal stresses associated with a transfer to a different orbit some time in its past (Dombard and Freed, GRL, 2002)
Current Studies
We are currently developing models to understand why a ring of normal faults formed with the Raditladi and Rachmaninoff basins on Mercury, a pattern of faulting not seen anywhere else in the solar system. Our initial modeling suggests that this faulting may result from temperature-induced contraction of the porous breccia that underlies basin fill. If true, such contraction may be an important process that requires reinterpretation of the implications of faulting in other basins on Mercury and the Moon.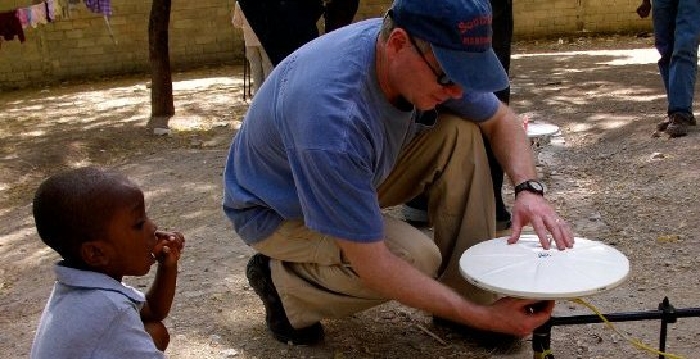 Previous Studies
Our group seeks to understand the rheology (viscoelastic strength) of the lower crust and upper mantle in various tectonic settings. Viscoelastic strength controls the rate of plate motions and significantly influences the evolution of crustal stresses through the earthquake cycle. Our main approach is to use large earthquakes as in situ rock squeezing experiments, whereby earthquakes cause an increase in shear stress that causes the hot rocks in the lower crust and upper mantle to flow. This process is called postseismic viscoelastic relaxation and it causes coseismic s tresses to transfer back up to upper crust, which causes postseismic surface deformations. This deformation can be observed by very precise GPS or InSAR measurements and used to constrain a finite element model of the relaxation process thereby determining the viscosity structure of the lower crust and upper mantle. Our group was the first to show that laboratory derived temperature- and stress-dependent power-law flow associated with dislocation creep following an earthquake was a viable mechanism to explain postseismic surface displacements (Freed and Bürgmann, Nature, 2004 ; Freed et al., EPSL, 2006). We have shown that viscoelastic relaxation within the mantle could influence surface displacements more than 4 rupture lengths from an earthquake (Freed et al., JGR, 2006; Freed et al., GRL, 2007), but that a significant postseismic response will only occur for earthquakes larger then M6.5 (Freed, GRL, 2007; Mahsas et al., GJI, 2007). Most recently, we have shown that power-law flow alone could not account for initial, very rapid surface displacement rate changes invariably observed immediately after an earthquake (Freed et al., EPSL, 2010).
Currents Studies
Our current work is on the development of a new temperature- and stress-dependent transient flowlaw that can explain the entire span of observed postseismic time-series displacements based on the tectonic environment of the region. This allows us to use short-term postseismic surface displacements to infer the long-term stress-rates and absolute stress levels in the upper mantle, quantities that are impossible to measure directly. We are also working on inferring the rheology of the lower crust and upper mantle beneath Haiti based on observed postseismic surface displacements following the 2010 earthquake. We are currently collecting GPS data, with finite element modeling to follow.