Geodata Science Initiative

Solid-Earth & Planetary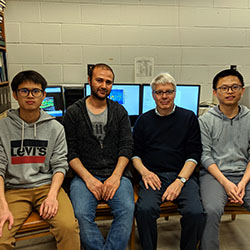 Researchers develop and apply data science methods to large-scale problems in solid-earth geosciences and planetary science, including those of theoretical and applied geophysics, seismology, tectonophysics, surface processes, and energy science.
Atmospheric & Environmental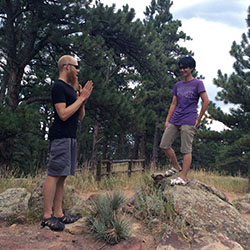 Researchers develop and apply advanced data science methods to areas of atmospheric and environmental sciences, including clouds and convection, Earth and climate systems, severe weather, subseasonal-to-seasonal prediction, geohydrology, and food-energy-water systems.
Transdisciplinary & Dynamic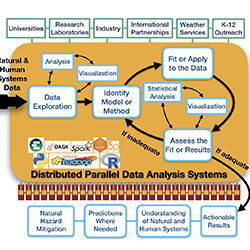 Researchers from across campus conduct collaborative research in the nexus of weather, climate, environment, resources, energy, and society, supported by high performance computing clusters with GPU or Hadoop systems. Subgroups frequently reach out to public or private sectors and form international partnerships.
Becoming Engaged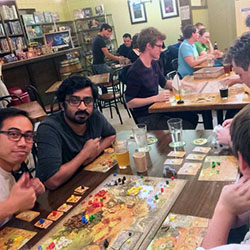 Contact affiliated faculty directly for collaboration or research opportunities. Prospective graduate students can apply for PhD or thesis-based MS study in each affiliated faculty's EAPS subject area. Prospective MS students pursuing rigorous coursework and practical research toward industrial careers should apply for the Geodata Science for Professional (GDSP) MS program.
Geodata Science News
New Study Finds Nitrogen Availability Affects the Evolution of Future Carbon Sinks in Northern Eurasia
07-29-2019
A new study coauthored by an EAPS professor has yielded an interesting result – enhanced nitrogen availability from permafrost degradation, the abandonment of agricultural land, and atmospheric nitrogen deposition may account for 30-50% of the carbon sink projected for Northern Eurasia in the future.
Cities living with a strong chance of rain
05-21-2019
Heavy rain can overwhelm municipal infrastructure and lead to flooding that can threaten lives and property. The U.S. alone spends millions - and sometimes billions - of dollars per year on flood recovery, and more is spent around the world.
Maize Production Practices May Be Unprepared for Future Heat Stress, EAPS-led Study Finds
05-14-2019
In preparation for the challenges of future climate change, farmers have begun several adaptation strategies to protect future food security. When it comes to maize production, however, some of these strategies may be focusing on the wrong variables, according to a recent EAPS-led study.
Dr. Cushman Inducted into Purdue Research Foundation Innovators Hall of Fame
04-03-2019
EAPS Distinguished Professor Dr. John H. Cushman is receiving an honor granted to only 25 Purdue researchers each year – induction into the Purdue Research Foundation's Innovators Hall of Fame.
New Soil Moisture and Temperature Data Helps Predict Life-Threatening Indian Monsoon Rains
02-21-2019
Thunderstorms embedded within Indian monsoon systems can deluge areas with dozens of inches of rain in little time, causing severe flooding and the loss of hundreds of lives each year. Better predictions of when, where and how much rain will fall is key to saving property and lives.