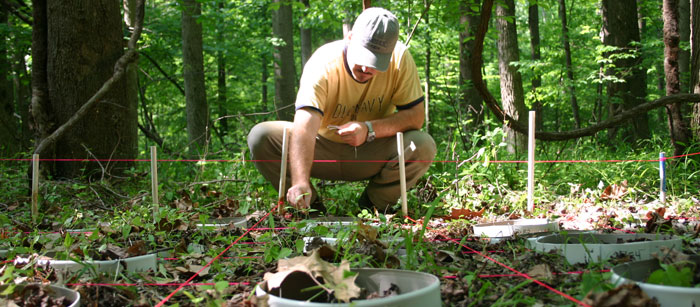 DEFINE YOUR SPACE
Meteorologist, Geologist, Researcher, Science Teacher, Astronaut, You're driven by a curiosity about the world. What's outside. What's in the air. What's beyond. You're a problem solver. You're driven by a desire to make an impact on the grand challenges facing our planet.

You are moved by the space around you. Motivated. Driven. Define your space. Chase your dream. Chart your future. Pursue a degree in Earth, Atmospheric, and Planetary Sciences from Purdue University.
Additional information: Frequently Asked Questions and Purdue Undergraduate Admissions.

If you have questions, please contact us:
Phone: 765 494-3258
E-mail: eas-info@purdue.edu
Undergraduate program:   Nancy Stewart, Undergraduate Counselor
Graduate program:   Kathy Kincade, Graduate Secretary
---
Undergraduate Programs: motivated by the SPACE AROUND YOU
A Purdue undergraduate degree in Earth, Atmospheric, and Planetary Sciences is life changing. You'll be equipped with the critical thinking and anaylytical toosl to investigate the interactions between and within different parts of the Earth system. You'll learn from the world's brightest minds in the field. In an environemnt that fosters student-faculty interaction, access to international researchers and students experiences that will last a lifetime.
---
Graduate Programs: driven by the SPACE AROUND YOU
Interdisciplinary is our mandate, studying the physical, chemical and dynamical processes for diverse events such as mountain building, asteroid impacts and tornadoes. Unravel mysteries of the past, present and future states of our Earth and other planets. Study the delicate balance of waether, climates and Earth processes and their impact on our socioeconomic well-being. Explore our graduate programs leading to a Master of Science (M.S) or Doctor of Philosophy (Ph.D.) in Earth, Atmospheric, and Planetary Sciences at Purdue.
---
EAPS Courses
For a complete listing of Earth, Atmospheric, and Planetary Sciences Courses:   click here
---
General Information about Purdue for Future Students
Follow the links below for general information about Purdue: