EAPS K-12 Outreach - Instructional Technology Using iPad Apps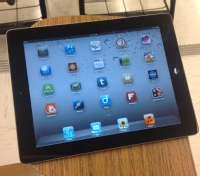 Categories of Apps:
Instructional Aids
This category includes apps that aid the process of teaching or providing instruction.
Reference
This category includes apps that students would use to gather additional information about a subject.
Skill Reinforcement
This category includes apps that allow a learner to practice skills. Examples include educational games and note cards. 
Utilities 
This is the toolbox of apps which work similarly to how a carpenter might use a hammer or measuring tape.  Apps here include distance measuring, voice recording, and note taking.
The Apps: 
Instructional Aids:

---
Teacher Pal

Cost: Free
The Good: This seems to be a rather good app. You can do attendance, grades, seating charts, parent contact, behavior records, and other info. It is very easy to use, and you can even send an email to either all the parents or all the students from the program.
The not so good: I would guess that a lot of schools now have network programs the teacher has to use such as PowerSchool.  It may have it, but I could not find a way to export the grades.
Reviewed by: Steven Smith
Socrative


Cost: Free
The Good:  This app allows you to create polls, quizzes, and exit tickets in a variety of formats. I like that they provide an Excel template that you can download and fill in your quiz info to upload and start using. You can share quizzes by providing the "SOC"  You get real time numbers.
The not so good: The not so good: Must be connected to the internet. I have not found a sharing community of quizzes yet. They say they are working on creating one.
Reviewed by: Steven Smith
Nearpod (teacher)


Cost: Free for the basic use. Premium has a cost but you have to contact them to see their the current pricing structure.   

The Good:  This is a highly rated app that allows the instructor to have their presentation on each of the student's iPads and collect real time assessment. I have used the embedded assessment and it works nicely to get instant formative assessment from students. The company has free webinars frequently to show people how to use the app fully. 
The not so good: I am not sure yet to be honest- I have loved using the app and find it easy to use. It would be nice to have a premium account so that I could share my lessons and use others lessons. 
Reviewed by: Steven Smith
SlideShark


Cost: Free
The Good:  This is a nice app that allows you to use your iPad to present PowerPoint presentations. I have used it for a couple of presentations now, and it was easy to use. The instructor could use this as a station for students to go through a presentation also.
The not so good: You have to create the presentation on your computer, upload it to their web site, and then download it to your device. There is a bit of a lag with the screen transitions.
Reviewed by: Steven Smith
Reference:
---
iBooks


Cost: Free
The Good:  This is a great app for reading electronic books and PDFs. I save reference materials as PDF files for the students to have for review. I like that I can add bookshelves so that I can sort books into topics. You can arrange items by bookshelf, author, title, or category. I download articles as pdf to the students' iPads for reading assignments.  

The not so good: Most of the books cost money.
Reviewed by: Steven Smith
Common Core Standards


Cost: Free
The Good:  This app includes Math standards K-12 and Language Arts standards K-12. Math standards include both traditional and integrated pathways (as outlined in Appendix A of the common core) and synthesizes Language Arts standards with the Corresponding College and Career Readiness Standards (CCR's). It is nice to have them there and easy to access for the teacher.
The not so good:
Reviewed by: Steven Smith
Flipboard


Cost: Free
The Good:  They refer to this app as an online social news magazine. It could be set up as a classroom news magazine by selecting the topics and sources you would want your students browsing. I played with it and set up a few sources, and it was not very hard. This might be my morning coffee and newspaper app!
The not so good: You do have to go through sources a while to decide what to include. Students could add other sources to the newsfeed.
Reviewed by: Steven Smith
Science 360


Cost: Free
The Good:  This app has a ton of amazing educational videos and photos with information from National Science Foundation. You can browse tags to search for a particular topic.
The not so good: There is not a lot on any particular topic; it seems to be hit and miss. This app would be overstimulation for some students.
Reviewed by: Steven Smith
Planets


Cost: Free
The Good:  This is a very good planets app that has information about the planets. Additionally shows the constellations and when the planets can be viewed. It is similar to Google Sky.sponding College and Career Readiness Standards (CCR's). It is nice to have them there and easy to access for the teacher.
The not so good: Overall this is a good app, but it could be better if it had even more information on constellations.
Reviewed by: Steven Smith
Timeline Eons FREE


Cost: Free
The Good:  This is a neat timeline that includes eras, periods, life forms, and human history. You can also add events.
The not so good: The free version is extremely limited after 10 days, and the full version costs $8.99.
Reviewed by: Steven Smith
Skill Reinforcement:
---
Flashcardlet


Cost: Free
The Good:  really like this program. It is a simple flashcard program, but you can import vocab lists from http://Quizlet.com/ so you can have access to thousands of lists already created, or you can create your own (both for free). I like that you can choose to see the front or the back of each card first and check off ones you have mastered. You can resume the last session or start a new one each time.
The not so good: In order to use pictures on a card you have to have a paid account on Quizlet.
Reviewed by: Steven Smith
Factor Samurai


Cost: Free
The Good:  This is a fun, fast-paced game! You have to click on all of the numbers that are not prime and only those non-prime numbers. I think it is good practice for knowing timetables.
The not so good: It is a bit too fast-paced for younger students.
Reviewed by: Steven Smith
Tangram HD Lite


Cost: Free
The Good:  This is a fun tangram practice app. My 8 year old enjoys it as much as I do!
The not so good: I did not find any issues with this app. :)
Reviewed by: Steven Smith
Utilities:
---
SPARKvue


Cost: Free
The Good: This app requires a Pasco Air-link and allows you to wirelessly collect data with Pasco probes. It uses Bluetooth so you do not need a wifi connection.
The not so good: It is somewhat limited in extra features such as importing data into other formats. Pasco has informed me that they are working on a full app that can do everything that their computer software can do. I do not know how much it will cost or when to expect it in the app store.
Reviewed by: Steven Smith
Magnifying Glass with Light


Cost: Free
The Good:  This is a magnifying program that digitally increases the picture up to 5x; the camera feature of the iPad only goes to about 3x. You could use this as an elmo if you propped your iPad up on something. You can take a snapshot of whatever is on the screen.
The not so good: You lose quality as you enlarge the image, but I don't think that can be avoided. The iPad has no light, but that is not the app's fault.
Reviewed by: Steven Smith
Skype


Cost: Free
The Good:  Skype is a great video conferencing program, including the app. You can conference or text anyone with a Skype account for free.
The not so good: This app does not support group conferencing. Some features are limited a bit compared to the computer version.
Reviewed by: Steven Smith
Dragon Dication


Cost: Free
The Good:  This is a voice-to-text app. At first I had some difficulty getting it to recognize my words. After I spoke directly into the microphone, it did a very good job of understanding my words.
The not so good: There is no audio playback that I could find. If you are not speaking directly into the microphone, it does a poor job recognizing words. They recommend using a headset microphone. I did not find a training mode for the app like in the computer version.
Reviewed by: Steven Smith
Evernote


Cost: Free
The Good:  This is a note taking app that you can sync across platforms and computers. You can add photos directly to your notes and tag notes for easy sorting. I use this app all of the time and love it.
The not so good: It does not spellcheck! My emails and other apps do but not this one. Also I have had issues when I have no Internet connection. Make sure you have a note downloaded to your device before going offline or you will not be able to open it.
Reviewed by: Steven Smith
Instagram


Cost: Free
The Good:  You can easily upload and share photos directly from the app. I like the geotagging option which worked with my iPad on wifi. If you set up a class account on Tumblr you could blog with it, or you can use it with Flickr to share photos. Do it via emails so the class could document a fieldtrip or other activity. It is a fun app, and could get addictive :)
The not so good: Needs an Internet connection. Also, this could be done with just uploading photos to a common file.
Reviewed by: Steven Smith
Skitch


Cost: Free
The Good: This is an app you can use to draw on photos, but you can also start with a blank page and use it as a whiteboard. I like that you can decide on the color of the line/text and the width. It spellchecks if you are entering text. I have used it on field trips and labeled photos of where we were and what we were looking at so I would not forget. Your work can be saved on camera roll or imported into Evernote.
The not so good: I could not use a voice-over to explain what I was drawing. You cannot change the color or size of the lines/text after you do it.
Reviewed by: Steven Smith
Educreations


Cost: Free
The Good:  This is a whiteboard app. I love to have students draw what they learned and record their explanation of their drawing while they draw it. Then you can export the narrated drawings to keep in the students' electronic records. You can upload and share them with the students, world, or school, or you can keep it private.
The not so good: You cannot save a drawing unless you also have a recording.
Reviewed by: Steven Smith
Tumblr


Cost: Free
The Good:  This is a blogging site. You get a URL (such as www.StevenKnows.tumblr.com). A class blog can be a great way for students to share what is going on in the classroom.
The not so good: This is a blogging site :)
Reviewed by: Steven Smith
Calculator Pro for iPad Free


Cost: Free
The Good:  This is a free scientific calculator that works nicely in both portrait or landscape orientation.
The not so good: The free version has ads and asks if you want to upgrade. Ads free version is $1.99
Reviewed by: Steven Smith
Dictamus Free


Cost: Free
The Good:  This is a good voice recorder that you can fast forward and rewind, etc.
The not so good: The free version can only do 30 seconds of recording. The full version, which is highly rated, is $19.99. This seems to be for someone who needs to review recordings in detail.
Reviewed by: Steven Smith
QuickVoice Recorder


Cost: Free
The Good:  This is a voice-recording app that I had no problems with. It did not time out on me and has been good for saving my thoughts.
The not so good: he free version only supports emailing up to 5M whereas the pro version (with mixed reviews) will allow emailing up to 20M.
Reviewed by: Steven Smith