EAPS Students Reflect on Glacier Research in Kyrgyzstan
Casey Beel, a Ph.D. student in the Department of Earth, Atmospheric, and Planetary Sciences, was among a team that spent a part of its summer in Kyrgyzstan, a country formerly part of the Soviet Union that manyAmericans would struggle to find on a map, let alone spell.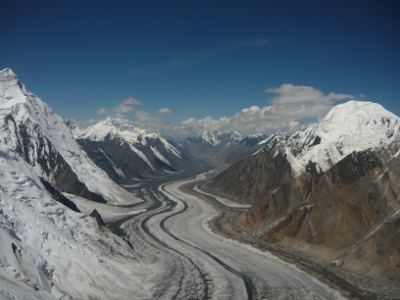 The country is known for its beautiful landscape and has become a scenic laboratory for climate change research as the EAPS team monitors and measures glacial flow across Kyrgyzstan. Jon Harbor, EAPS department head, has been to the mountainous country multiple times.

This summer marked Beel's first trip to Kyrgyzstan and he was thankful for this chance of field research.

"It was an amazing, beautiful country," Beel recalled. "We got to spend the first day there walking around Bishkek, the capital city, before heading into the mountains. It was nice to get a small look into the culture of the people."

Beel described the Kyrgyzstan landscape as "stunning."

"Approximately 80 percent of the country is mountainous, so there are plenty of high peaks, some over 7,000 meters above sea level, glaciers and large rivers draining these areas," he said.

Beel said glaciers are "sensitive indicators of climate change." The goal of the research is to obtain "accurate chronologies of glacier fluctuations." The information will allow the EAPS team to understand how glaciers respond to ongoing climate change.

Traveling across the terrain via helicopter, Beel and crew took 15 samples from boulders andother landforms back to Purdue for testing. But work in Kyrgyzstan is not finished yet. Beel expects to return to the rugged, picturesque country.
"I'm looking forward to getting back there next year, hopefully for longer this time," he said.

For more on the EAPS mission to Kyrgyzstan, click here.